deux: Things to do in Montoire when you're dead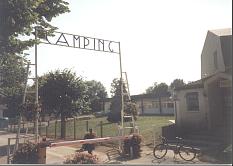 Alf's campsite: the bike is Alf's, on which he patrols the site literally every few minutes just to make sure nothing is awry.

ALF'S campsite opened at 8am and we ordered and shipped some large cups of coffee before registering. Alf isn't really called Alf, but he always reminds Stu of Stu's uncle Alf, and, as so often when Stu names something, the name stuck.


Stu, who's a bit of a watercolour artist, presented Alf with a picture he'd done of one of a village nearby and Alf was so impressed that when we asked him where we should pitch our tents, he replied "Anywhere" -- which, as Alf usually runs his campsite to micrometre tolerances as an inscrutable Big Brother, was a great compliment.


We put up the tents -- the simple two-poles-and-some-bits-of-rope tent I'd borrowed from Stu, Ian's clever and complicated dome-shaped tent with bendy poles, and Stu and Jen's equally clever dome-shaped one. Jen immediately fell fast asleep in the tent, but Stu, Ian and I got the bikes off the cars and cycled off into Montoire to look for some lunch.


Q. So how good were we at speaking French?
A. I did GCSE French eight years ago, and could understand French a fair amount but not speak it myself very well; Jen did O-level French even longer ago and could only understand it a bit; Ian did a year out in Toulouse during his degree and speaks French well enough to be mistaken for a Dutchman; and Stu did French lessons for a while but then stopped, leaving him with only a reasonable grip on French but more than enough enthusiasm to make up the difference.

The supermarket we found, Atac, would probably have merited several paragraphs of awed description from a gastronome such as myself -- but we were all far too tired to pay it the attention it deserved. Only the wine section really woke us up, where Stu greeted some bottles of Gaillac and Crozes-Hermitage as if they were long-lost brothers. The wine took up one and a half sizeable aisles in a supermarket no bigger than the little Sainsbury's in Cambridge centre.


Stu wanted some fresh langoustines for lunch, so we also went to the town square to cruise the local market. The large and very jovial fishmonger, all of whose produce, Stu translated, had been in the Atlantic until the previous night, took delight in selling him a kilo of langoustines, and six oysters. Meanwhile I was quite literally sniffing around the cheesemonger's stall, where some small cylindrical soft cheeses looked quite exciting but tasted in fact very boring, another cheese tasted a bit like Emmental but was extremely expensive, and, at the back, I noticed some very dark orangey cheese with a little sign saying "18 mois". I didn't actually get any, though.


Ian did really well in the market: he found a sausagemaker's stall, staffed by a shifty-looking bloke in a fedora who explained his sausages at some length and got Ian to taste them all. "This one was the best," he said, waving a rigid-looking red and white sausage at us, "this one's saucisse sèche de montagne, and it's got whole peppercorns in. And I got a bit carried away," he continued, producing something else from his bag, "and bought this."


We looked. It was about the size and shape of a largish cobblestone, and was encrusted with thyme. "It's called a pavé," said Ian, "which is French for paving stone, or cobble. It's just like saucisse sèche, but you get a great big lump of it."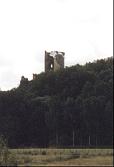 "Good Value!" exclaimed Stu. To celebrate the pavé, we decided to have a beer at a bar Stu and Ian knew in the next village, Lavardin. Off we cycled, soon seeing a pretty little hill with a ruined chateau perched on top.


"Photo call!" I said, lining up a shot over the fields. Stu just gave me an enigmatic smile.


I soon found out why. Only just around the corner (and past a sign saying Lavardin, Un des plus beaux villages de France) we got a much, much better view of the chateau, plus a little hillside village, the river Loir, and a wonderful old stone bridge over it. It was breathtakingly beautiful, more beautiful than I found it easy to cope with. We stopped at a riverside path marked Promenade des poêts.
| | |
| --- | --- |
| | The 14th-century bridge and 15th to 18th-century château at Lavardin, from the Promenade des poêts. If you've got image loading turned off, I recommend you load this one explicitly. Click on the image to see a bigger version (as a 74K JPEG). |

"Now you see why we come to the same place every year," said Stu. "Now you see why your suggestion of going off and renting a gîte somewhere else never really got considered."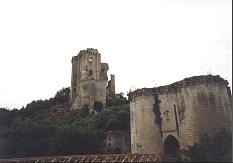 The château again, from a bit closer to.

"Ohhhh! France!" was all I could say. I've never before felt myself relaxing second by second. The image was actually a little familiar, as Stu often sets himself the task of painting it -- "but I've never got it right. You can't, really."


Had it been in England, I felt, the whole zone would have been horribly commercialised: there would, as Ian said, have been an ice-cream van. In France, though, they'd laid out a flowerbed.


We must have spent about twenty minutes there, building up a sense of wellbeing and calm -- a little of which was dissipated when we went over the bridge and just up the road to the bar and discovered it was closed. According to Stu and Ian it in fact had the same "We're temporarily closed" notice it had had the previous year.

Lunch
Lunch is taken very seriously in France. Even some quite major supermarkets close their doors between about midday and 2-3pm. In small towns like Montoire the effect is both rapid and complete: at the stroke of noon the whole town retreats inside like a startled sea anemone.




But we'd seen a bar on Montoire town square, so we cycled back over the bridge and had some beers there instead, and watched the market traders scuttling away to have their lunches, and marriages honking around the square. It's the French way to honk your horn if you see a wedding, and then honk your horn at other people to tell them you've seen a wedding. As Montoire is big enough to have quite a stream of weddings of a summer Saturday, this meant continual recursive waves of honking were spreading through the whole town most of the day.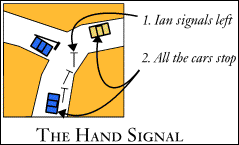 It was while we were cycling back to the campsite from Montoire centre that Ian performed The Hand Signal.


The Hand Signal was a very impressive piece of roadcraft. It managed to convey, in one simple gesture, that (a) we were British, (b) we'd just had a beer, (c) we hadn't slept for 36 hours, and (d) we wanted to turn left. So well did he get these essential facts across that seemingly every car in Montoire just stopped and let us get on with it.


Learn to Speak Stu #2: Categories of wine
The French, who have to deal with a lot of wine in the course of their day-to-day existence, have come up with several classification systems: AOC, VDQS, vin de pays, premier cru, and so on. Stu, in typical down-to-earth fashion, effectively reduces all these categories to three:


Tidy Wine: This is wine where just having it makes you happy. Occasionally you get it out of your wine rack, look at the bottle, and put it back. You don't drink it except when you know beyond reasonable judicial doubt that the people you're with will appreciate it.


Quaffing Wine: This is wine you drink.


Toilet Wine: This is wine you buy for your parents.

Once we were back at Alf's we woke Jen up and started on lunch -- which involved boiling up the langoustines for a few minutes on Stu's camping stove, and then taking them to bits and eating them, with a couple of tidy bottles of Vouvray.


Langoustine is one of those French words for which even Larousse Gastronomique doesn't offer an English translation, for the simple reason that the French are dimly aware that they are wasted on the average Briton and thus never export any. They're crustaceans (hard luck, all you orthodox Jews out there) intermediate in size between a king prawn and a lobster. You cook them for not very long at all, preferably starting when they're alive, then pull the abdomens off and get the meat out. You're then faced with something that looks like a prawn but is the size of your thumb and has a much more delicate taste than a prawn. All you need to do is dip it in some red wine vinegar you've finely chopped a shallot into, and it's perfect. Once you discover how tasty it is, though, it's worth getting some shellfish pliers and cracking open its claws -- there are some more tasty bits hidden in there, which presumably Nature had expected no-one ever to be able to get to.


The Vouvray went with the langoustines very well. It's not often you see Stu drinking white wine, but Vouvray with shellfish is one of the exceptions. For another, see later.


We'd got the oysters for Jen, but I had one to try, as I'd never eaten oyster before. Any animal cruelty zealots who were put off with the idea of boiling langoustines alive and cracking them open with pliers should stop reading now, for what we did to the oysters was even more barbaric. We didn't even cook them.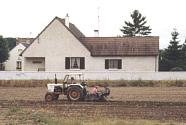 This old couple were sitting on the back of the tractor, she sorting plants out from a pile, he methodically throwing them into a trench at the right interval. The tractor was going at a slow horse's pace. It's ancient round here.

They were sold live in the market, and we kept them in a bucket of water until after lunch. Then we took each one, rammed an oyster knife in at the hinge end to get it open, poured out the brine, added a little shallot vinegar, and ate it raw straight out of the bottom shell. It was soft and creamy and sealike and shallotty and I was an instant addict. "Ah," said Stu, "a dozen oysters next time."


Having just described that meal as "lunch", it should be said that it was now about 4pm. We all then decided we needed some sleep, and had a snooze until we all got up thinking it was time for supper.


Supper was rather more modest than lunch: some French ham, a pack of cold cooked potatoes, and some broad beans specially imported by Stu from his own back garden in Cambridge. Only a couple of quaffy bottles of wine accompanied it: we were all glad to get to bed.



All Rites Reversed -- Copy What You Like