quatre: The Rock
WE spent much of Monday travelling. Stu and Jen's car led the convoy, with Stu navigating,

Diesel
Just as in Britain, fuel is cheapest at large supermarkets. It's particularly expensive at service stations on autoroutes. It's everywhere more expensive than in Britain -- fill up at Calais!

especially after Ian had managed to get lost as we drove the few hundred yards from Alf's campsite to the Atac supermarket to get some diesel.


We headed to Orléans and then south on the autoroute: Bourges, into the Auvergne, Clermont-Ferrand. We'd caught up with Sunday's rain again by about lunchtime: by the time we got to Clermont, it had so darkened that Puy-de-Dôme and all the little Puys loomed in and out of view, dark grey in the grey.


It was in Clermont that Death by Parking nearly occurred. Stu and Jen had decided to swap seats, which was fair, but on the main Clermont-Ferrand ring road, which was not. They just stopped the car on the inside lane and got out, despite there being a layby only fifty yards up the road... they were quite safe, of course, because Ian and I had to stop too, and we were behind them so it was our rear mirror that filled with irate Frenchmen hurtling straight at us and swerving at the last possible moment... but by some miracle we survived.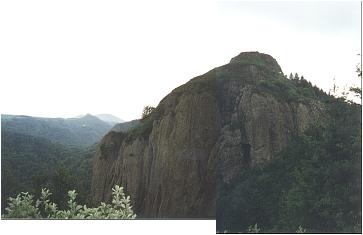 The Rock: between Clermont and Tauves we found a large lump of what the nearby information board told us was phonolite, a sort of basalt. As you might imagine, I was standing at the top of a substantial cliff when I took this one.

After Clermont we drove through the great scenery of the Massif Central on smaller, Snake Pass-like roads. Unlike the Snake Pass, though, even the high ground was lush and forested. And all the hills were bigger, steeper, rockier. When all's said and done, I expect the Peak District is actually quite jealous of the Massif Central. And there were eagles, soaring over each valley.


We went through a town called Mont-Dore, accentuating the impression that what we had found was the Peak District but more so. Dore in Derbyshire, though, doesn't have ski-lifts. Stu and Ian, both hardcore ski junkies, got bad cases of ski craving just seeing them.


We had decided to stop at the first nice-looking campsite we came to after Tauves. By the time we got to Tauves, though, we were so tired that we stopped at the first campsite we saw signs to: the municipal campsite at Tauves.


It was run by a man with a big hat, who resembled rather the sausagemaker from Montoire market, only without (thankfully) all the blood-stains. All the emplacements were screened off from one another with dense conifer hedges, the grass was soft and mossy, and all seemed very fine.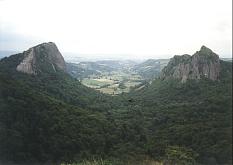 Massif Central: These boys are volcanic plugs, like Table Mountain, only prettier and less full of aliens. Click on the image for a bigger JPEG (35K). You can see better on the bigger picture, but there's a whole load of Giant's Causeway stuff going on on the left-hand one.

We got the tents up (the third time I'd done the tent, I felt like an old hand at camping), and went to have a look round.


Like, I suppose, most people, I'd always imagined that the tales people told about French lavatories were an elaborate collective hoax -- an impression, moreover, confirmed at Alf's, where all the toilets are, well, toilets. The hilarious myth of the toilettes turques was a remnant of the same, Peypsian, era as emptying bedpans out of first-floor windows. The citizens of no first world country today, I complacently believed, crapped in holes in the ground.


As I pulled open the door of the cubicle in the campsite's loos, then, I was taken completely by surprise.


So what do you get? You get, for the record, an elegant moulded ceramic floorplate, a bit like a shower tray but with two raised footrests and a big hole at the back. The plan is you stand on the footrests, get your kecks down, and squat. Afterwards you pull the chain (yes, they've discovered the flush, but not the throne) and the careful design of the moulding ensures everywhere gets thoroughly sluiced -- except the footrests, so you don't get your shoes, er, wet.


Needless to say, not even for a journalistic or anthropological desire to document all was I prepared to use this thing. "Ah, this is a prettified one," said Ian when I returned, still in some shock, to the emplacement, "the ones I used in Morocco had none of this ceramic business. And they had ropes you could hold onto to lower yourself into position."


Despite Ian's evident nostalgic enjoyment, the rest of us were somehow ill at ease that evening. A chill set into the air -- the campsite was, it turned out, at about 1200m. Stu cooked steaks hâchés, which he'd been hyping assiduously since we bought them. Steaks hâchés turn out to be minced beef, formed into flat discs, and fried.


"So what you're basically saying is," I said after eating a forkful or two just to make sure, "that steaks hâchés et haricots verts is burgers and beans." But there was a difference: what we were eating was French. This is a more significant difference than it sounds, and in particular it's most of the difference between on the one hand a tin of Heinz baked beans with sausages in, and on the other hand cassoulet, a meal which will be told in its proper place.


After tea, the cold and the day's anthropological surprises caused one thought only to us all: booze. It was very late and very cold before we crept into the tents and fell asleep, and the Grand Marnier bought to equip us for a fortnight had failed us on only the third day. In addition, neither the wine box nor the Jameson's was as healthy as it had been.



All Rites Reversed -- Copy What You Like