huit: Bergerac
WE HAD cassoulet for breakfast. We'd picked it up in the supermarket at La Bugue in two vast tins, Ian again avowing it a most traditional French dish. It's basically baked (haricot) beans in tomato sauce with random bits of charcuterie in, but, as with that other French speciality, fermented grape juice, connoisseurs

Connoisseur
A strange word, it looks about as French as you can get, but it isn't. The French for connoisseur is connaisseur.

[1998 addendum: according to a language researcher at Xerox, no less, the French word was connoisseur at the time English borrowed it: meanwhile, French pronunciation and spelling has moved on...]

 will tell you there's much more to it than that.

Larousse Gastronomique had a lot -- over two pages -- to say on the subject of cassoulet: how certain sausages, or cuts of pork, or even mutton or goose, are compulsory or forbidden in different regions' cassoulet. Ian, expert in cassoulet à la mode de Toulouse, had his own opinions on its ingredients, which we all felt was a very French attitude to take.

The throwaway line is that only the French could have a national dish that no two people could agree on a recipe for, but it seemed to me that the cassoulet vs. cassoulet controversies were just another example of surviving regional differences in France which, if not exactly ancient are still older and more genuine than England's culinary monocultures of the chicken bhuna and the M&S cauliflower cheese.

Cassoulet à la mode de boîte de conserve was in any case delicious and filling.

Today was the day of our trip out to the town of Bergerac to stock up on the wines of that region. The road wound along the Dordogne, and at one point topped a high cliff with views for miles up and down the flood-plain. We got out of the cars and took photos, which didn't come out very well as it was a greyish day. Sweeping up and down the river, though, below us, were huge dark birds, which sadly came out just as smeary dots on the photos. "Eagles", we all said to each other, proud and awed to be standing high above such majestic and famous creatures and watching them about their business. Our irritation at the party of six overdressed middle-aged Brits with spikily Home Counties accents who then pottered up the path saying "Charles! Charles! Do you see the buzzards?" was thus beyond words, and we just scowled, got back into the cars, and drove off.
Fortunately, Bergerac is a place to dispel any lingering distaste for humanity and its endeavours. We pitched up at the Cave Cooperative, a large modern building where all the local vineyards too small to have their own retailing operation sell their wares. At the back of the hall were the same metered pump dispensers we'd seen at Vendôme, but this time the tanks they were drawing from were clearly visible: cylindrical, transparent, and the size of Transit vans.
There were more bottled wines on offer than at Vendôme, too: Stu helpfully gave me an abridged guide to Bergerac wines ("There's ones called Bergerac, and then there are the pukka ones which are called Pecharmant") and after tasting a few we bought a case or so each, me ending up with six bottles of Bergerac at about 20F (£2.50) each to drink, and six of Pecharmant at about 30F (£3.75) each for laying down.
[1997 addendum: my self-control gave out after having laid them down for only a year, but they are now absolutely splendid.]
As our ten-litre box of Coteaux Vendômois was by now on its last legs, we also took an eleven-litre box of one of the pumped wines, for about 16F (£2) a litre. This, in fact, would last us until the very end of the holiday, partly because we couldn't keep up the hectic drinking pace of the first week, and partly because we ended up drinking even better wines from bottles more often.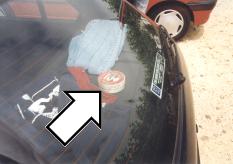 It's a bit runny, sir. Ian's very own Camembert-ripening technique: (1) install Camembert on parcel shelf, (2) leave car in hot sun.