Code bloat sets in...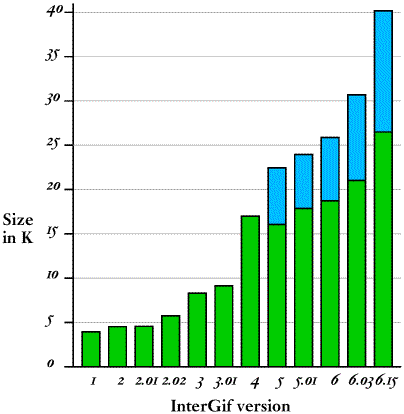 The command-line program is shown in green, the desktop front-end in blue. InterGif 4 integrated both into a single file, but then I realised that was a Bad Thing :-(.
1: first release
2: animation
2.01 (17-Jun-1996): bugfixes
2.02 (12-Aug-1996): colour optimisation
3 (27-Aug-1996): Animator files
3.01 (3-Sep-1996): auto-transparency
4 (8-Nov-1996): desktop version
5 (4-Feb-1997): bugfixes, better optimiser
5.01 (10-Feb-1997): Draw files
6 (13-Sep-1997): palette mapping
6.01 (28-Sep-1997): small bugfix, Windows and Linux versions
6.02 (9-Nov-1997): more small bugfixes
6.03 (21-Feb-1998): icon-bar icon, deep image support
6.04 (8-Jun-1998): bugfixes
6.05 (16-Sep-1998): bugfixes
6.07 (21-Feb-1999): bugfixes, sprite conversion for Windows and Linux
6.08 (23-Apr-1999): bugfixes (Still the most widely-used version!)
6.10 (2-Aug-2000): bugfixes
6.11 (17-Oct-2000): bugfixes, contributed Floyd-Steinberg
6.12 (13-Dec-2000): bugfixes
6.15 (5-Oct-2004): contributed greyscale conversion

Yet to do
| | |
| --- | --- |
| | Cope with "uncompressed" Complete Animator files. |
| | Perhaps add a way to disable the "changed rectangle" optimisation -- though I can't really see why you'd want to. [Except that the browser on Psion Series 5's won't display animations unless the whole frame changes each time, duhhh.] |
| | Use local colour tables if it helps (eg. if, in a 256-colour animation, the changed rectangle contains only 2 colours). Preliminary work indicates that the overhead of even a small colour table means that this optimisation is very, very rarely worthwhile. |
| | Other input formats: BMP, FLI/FLC? Anyone got any requests? (This is largely taken care of on the Acorn version now that it can use ChangeFSI). |
| | Do something about the way this list gets longer with each release instead of shorter. [InterGif 6: hey, it got shorter this time!] |
Note: Unless there are serious bugs, there probably won't be a new release of InterGif for quite a while. InterGif 6.15 is the twenty-third release (including bugfix releases), the previous version (6.12) was over four years ago, and frankly I'm getting bored of GIFs all round. Besides, InterGif isn't in C#.